"One can indeed be in the moment here with the artist as we watch the last few raindrops fall, and the sun fights for domination on perhaps an early summers day, this indeed is a fine performance and presentation from Diane Wheeler Dunn."

Steve Shepperd, One World Music Radio
---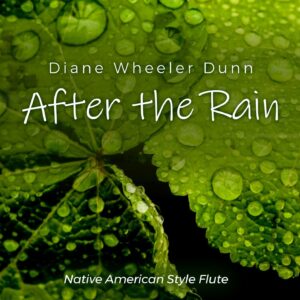 ---
---
About the Recording
After the Rain
The flutes featured in this melody are an F# by Rain Spirits and a low A by Thunder Bear, appropriate for a song about the gift of rain. The backing track includes grand piano and plucks over the ambient pad.
After the Rain depicts both the nourishing qualities of the rain on our thirsty earth and metaphorically on our thirsty souls.
How deeply saturated are the colors of the earth after the rain. How beautiful the raindrops on leaves. Rain's life-giving, nourishing, healing water.
Rain, like music, transforms.
Artist: Diane Wheeler Dunn
Recording: After the Rain
Release: 6/1/2022
Label: Independent
---
Reviews
After the Rain
By
Diane Wheeler Dunn
Written by
Steve Sheppard
After her recent success at the One World Music Radio awards, dual winner Diane Wheeler Dunn is back with a brand new single, and a more descriptive musical narrative using flute and keyboards you will not find.
After the Rain is the new release, and a timely one as the artist looks like cementing her standing in the flute genre and communities. The hovering intensity that flows from the keyboards sets a scene so palpable, whilst the artist's flute creates a story line that is all too compelling.
One can indeed be in the moment here with the artist as we watch the last few raindrops fall, and the sun fights for domination on perhaps an early summers day, this indeed is a fine performance and presentation from Diane Wheeler Dunn, and perhaps even another chart hit as well.
---