Winner of the 9th Annual One World Music Awards 2021 Best Flute Single
---
"There is a wonderful hovering intensity in this single, one that I haven't heard the like of since a performance by Gheorghe Zamfir in the movie Picnic at Hanging Rock way back in '75. Diane Wheeler Dunn and Mystery in the Mist is a sublime and mystical opus of sound, created by the Native American style flautist in a wonderful moment of artistic brilliance."

Steve Sheppard, One World Music Radio
---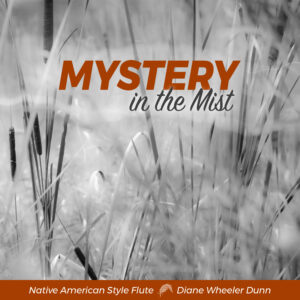 ---
"Mystery in the Mist is the name of Diane Wheeler Dunn's new single. Important to Diane is how her music connects with others. "This is the most rewarding aspect of creating music on the Native American flute," she says. "You don't know when you're birthing a song where it's going to go and who it may heal, uplift, or transform. Every piece is an opportunity to express some sort of emotion that helps me, and hopefully, those who listen, process love, grief, and gratitude."
Press release by Higher Level Media
The beautiful and seamless combination of Diane's love for the music and the spirituality that's at the heart of her playing and composing is the theme that drives her recent single Mystery in the Mist, in which she backs her trademark flute energies with a hypnotic, haunting atmosphere and intoxicating percussion elements."
New Age Music Guide
---
---
About the Recording
Written in the Miyako-bushi scale, Mystery in the Mist includes flutes in high F and high C, ambient pad and plucks. This is a space for populating one's imagination with a short story, a mystery, about those things between things, where there is something beyond our focus that is mysterious and spiritual.
Artist: Diane Wheeler Dunn
Recording: Mystery in the Mist
Release: 11/24/2021
Label: Independent
---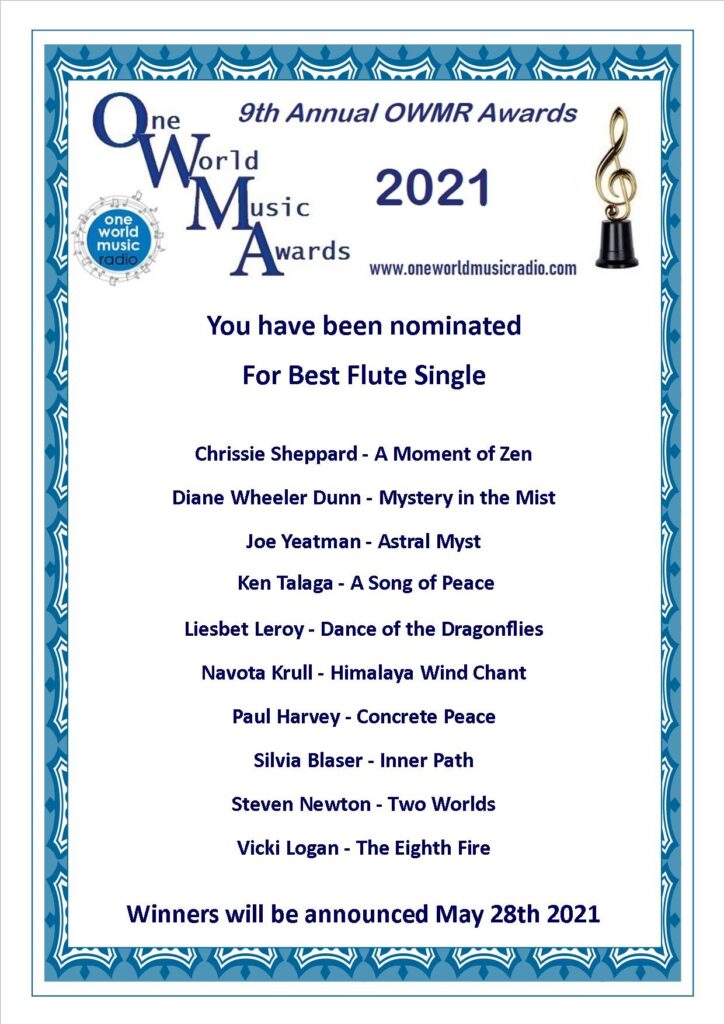 ---
Reviews
Mystery In the Mist (single)
Diane Wheeler Dunn
2021 / Diane Wheeler Dunn
7 minutes
"Mystery In the Mist" is a haunting single release by Native American-style flutist Diane Wheeler Dunn. I reviewed Diane's debut album, Quiet Beauty, a few months ago (10/2021) and have been anxious to hear more of her music. On this piece, atmospheric keyboard washes and ambient pads behind the Native American style flute combine to give the feeling of a chilly, foggy night on the beach where no shapes are defined and a profound feeling of solitude envelops you in much the same way the fog and mist do – an experience that is both beautiful and a little bit unsettling. Also a photographer, Dunn also created the cover artwork. Quoting her:
"I am struck by the representation of the misty air in photography with deep depth of field, where the subject is focused but the background is blurred. These are more spiritual images to me; this world is in focus and the otherworld is not. What spirits inhabit the unseen, mysterious backgrounds of our lives? What John O'Donohue calls 'that subtle world that dwells between things.'"
"Mystery in the Mist" is available from Amazon, Apple/iTunes and streaming sites such as Spotify and YouTube. Both thumbs up!
Kathy Parsons
MainlyPiano.com
12/10/2021
---
Mystery in the Mist
By
Diane Wheeler Dunn
Written by
Steve Sheppard
There is a wonderful hovering intensity in this single, one that I haven't heard the like of since a performance by Gheorghe Zamfir in the movie Picnic at Hanging Rock way back in '75. Diane Wheeler Dunn and Mystery in the Mist is a sublime and mystical opus of sound, created by the Native American style flautist in a wonderful moment of artistic brilliance.
This ever drifting tone and timbre of Native American style flute vibrations is utterly addictive, one could listen to this new single on repeat for simply hours and never tire of its structures and compositionally crafted cleverness. Mystery in the Mist by Diane Wheeler Dunn is a piece that deserves to be part of a movie soundtrack it is that good, and it is one that I urge all musical aficionados to seek out and purchase at the earliest of moments, you will not regret a second or a cent of it.